The category of info organizing software has been an important software are for me.  Being able to keep documents, notes, graphics, etc in a database and to be able to categorize content and find it quickly via organization or searching really makes it quite worthwhile.  The central database makes it easy to have the same content on multiple machines.  Over the years I have kept such virtual notebooks for programming related codes and notes, Catholic info and apologetics, computer tips, addresses, passwords, etc.
For several years I used a Windows product called Info Angel.  Their website is kind of tacky and the name is outputting, but I really liked this program from when it was first freeware and then bought it when it went shareware.  Like many note organizers you could create folders and subfolders to categorize content.  You could import html and rtf documents and create your own documents from scratch.  It has a very rich editing environment along the lines of a good html WYSIWYG editor that allowed using graphics and html elements such as tables.  The table editing was also pretty strong.  It used an Access database to store content and allowed you to create multiple databases if you wanted.  This was useful since I would copy this database back and forth from work to home so that I always had access to the same content.
When I moved to the Apple Mac platform I started to look for a new information organizer.  Ideally I wanted to find a program that would work on Windows and OSX and that could share a database.  Secondarily I wanted to find one that was free or under $40.  There are plenty of information organizers on the Mac and I looked through some of them and did not find a multi platform one.  Most of the Mac ones I first looked at also did not have the editing capabilities that I wanted.  For a while I settled on DevonThink Personal.  The treeview organization was like what I was use to and it had basic editing tools along with some interesting features and a good search capability.  But it was not what I would class a the ultimate product in this area, though it works quite well.
Back in March of 2008 the Mac Review Cast interviewed the CEO on the latest version of Evernote.  When I heard that Evernote was going to be for Mac and Windows and that it synchronized its database on the web I was certainly intrigued.  After getting an invite for the Beta program I downloaded it and started to use it.
Over the almost year since then the program has been constantly updated and I have come to like it more and more.  At first the interface put me off.  I am use to a treeview where I could add subfolders to organize content.  In Evernote you can make multiple notebooks and then add notes to those specific notebooks.  Since I keep plenty of notes in various categories I figured it would be quite inefficient to find content and that it would be cluttered.  I was proved wrong because of Evernotes excellent search capability.  Start typing something and it instantly finds notes that match and then you can simply click on the note you wanted.  Additionally you can tag notes.  This is quite useful and the tag area on the sidebar makes it easy to find content in multiple notebooks that have the same tag.  The fact that I could use the Windows client at work and the Mac Client at home with the notebooks automatically synched made me a really happy geek and I have now switched totally over to Evernote for all of my information management.
The fact that you can use Evernote for free is also quite excellent.  The free version is limited to uploading 40 MB of data a month and lacks SSL.  In my case even though I use this product a lot I have never come close to the monthly allowance.  Though the lack of SSL makes me not put any sensitive data into Evernote.  The paid version is $5 a month or $45 dollars for the whole year which is pretty reasonable and gives you 500 MB of upload, SSL, and Premium support along with some other benifits.
As a Mac user one of the things I have come to expect is beautiful and useful interfaces.  Here Evernote is no slouch and is quite pleasing to look at while also being easy to use.  The Mac version gives you 3 different data views (Windows version has 2 views). You can edit notes inline of the program or have them open in an editing windows.  The editing controls are simple word processing ones for font, alignment, font style, color, lists, etc.  But there are multiple ways to get data into Evernote fully formatted.  You can simply copy and paste from a word processor or from your browser, via email, , drag and drop, or importing from a document directly.  On the Mac you can use your iSight to create a new note.  Using images is one of the coolest parts of Evernote.  While pretty much all information management programs let you paste in graphics, Evernote goes a step further.  Once the image is synced on their server it is parsed for text using OCR.  After this when you search it will also find text within a graphic.  Not only is this cool, it actually works.  I scanned in receipts and was able to find content in the receipts with not problem. Would also be perfect for business cards.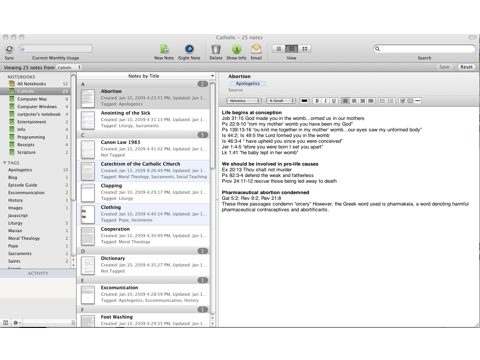 The Windows interface of Evernote is pretty much identical to the Mac version which is a real plus.  They custom designed the interface not using common Windows controls which look quite spartan when compared to OSX controls.  I so wish more Windows programs took this attention to detail and concern for aesthetics in their interface as most Mac programs do. Though I must admit that Microsoft Office products have come a long way in this regard.
One of my favorite data formatting features is to use tables to present data I have stored in notes.  Unfortunately Evernote's table handling capabilities are quite limited.  If you import or paste a document with a table it will appear just fine.  But if you want to further edit the table by inserting/deleting columns/rows or changing background color of rows you are going to have a problem.  The Windows version has some capability to add rows and depending on how you move the cursor via the keyboard  you can indeed add rows to an existing table, though there is no way to insert a table from Evernote itself.  The Mac version has a table icon and when pressed allows you to select the column/row size of the table you want to insert, though once inserted I found no way to insert/add rows/columns.  I hope they fix this in the future and at least should be consistent in the Mac/Windows versions.
This is a pure note taking application and does not include calendars, contact information, etc like many information management programs.  Though this is fine for me since I want a note program to do one thing well and Evernote mostly does that in handling note management.  There are additional features such a Saved Searches which let you save commonly used searches.  In Windows Evernote work with Outlook.  You can also clip information directly from most browsers (IE, Firefox, Safari, Chrome, etc) directly into Evernote via a toolbar.   Each Evernote account also lets you email to a specific url to add content to your default notebook from any email source.  So you could add notes easily from any phone with email capabilities.  For the iPhone/iPod Touch there is a free Evernote app that also lets you use Evernote directly and have access to all of your data.  This application works quite well and they have improved it since the first release to also be able to show some notes even when using the iPod Touch and you are not around Wi-Fi. There is also a Windows Mobile version available.  But you can use any internet capable phone/device to access/edit/add notes via your account on the Evernote website directly.
One problem with Evernote is the lack of exporting features.  As far as I could tell you could not export a single note back out.  Sure you could copy and paste the data to get it out, but you really should be able to export the information back out as text or html.    You though can email an individual note and so could email it to yourself.  But you should not  have to go to this length.
So overall I quite like this tool and I have no doubt it will only get better.  I will always be looking for the ultimate note organization application, but for now it is going to be hard to find one as flexible as Evernote.
A Quick Introduction to Evernote